European icons in the vein of Albert Serra, alternative 90's a'la Paul Thomas Anderson or trends of the remarkable Alexander McQueen? Alongside Wrocław Fashion Outlet, which is the official sponsor of the 19th New Horizons IFF, we're here to present our ideas for festival outfits inspired by this year's themes.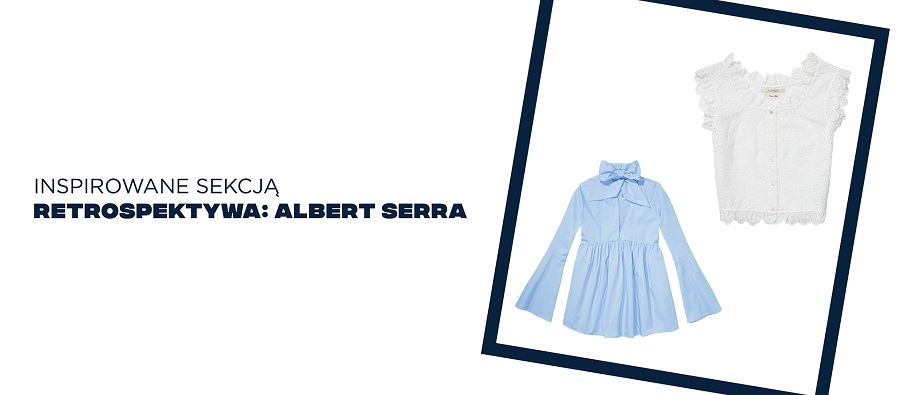 The 19th edition of the festival will be an opportunity to see the works of Albert Serra – director from Catalonia, creator of such films as La mort de Louis XIV (The death of Louis XIV), Història de la meva mort (Story of My Death) and Honor de cavalleria (Honor of the Knights). Serra employs iconic characters of the European culture – Don Quixote, Casanova, Dracula – to tell his own stories, usually by making a parody of the legacy of the European civilization.
Specific creative process of the Spanish director may be an inspiration when it comes to fashion – to use historic elements of wardrobe to create modern looks. Wide puffy sleeves, flares, laces, bows, corset-like tops… there's plenty to use in an interesting manner. These additions will nicely complement both casual and formal outfits. The latter will be ideal for the opening gala and the closing ceremony.
You can find clothes with historic accents in the Scotch & Soda shop at the Wrocław Fashion Outlet. It is the only place that showcases this Amsterdam brand in Poland. Right now you can take advantage of up to 80% discounts.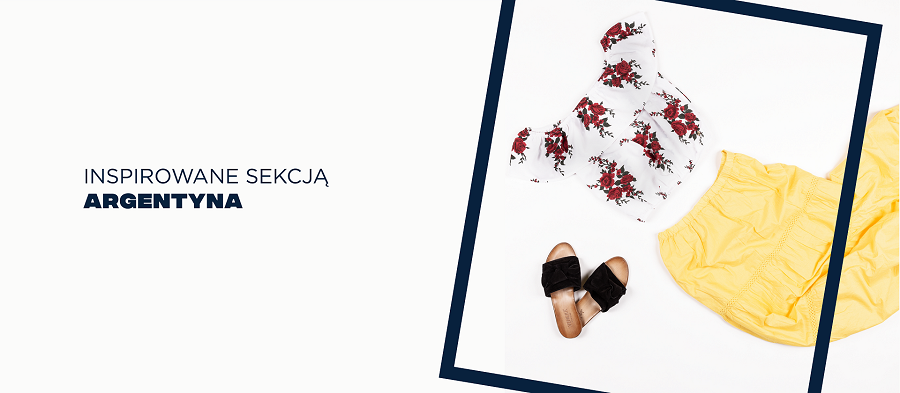 This year's festival also puts the spotlight on the Argentinian filmmakers. It's been 13 years since the last time the festival was focused on their work. Our upcoming show will include – among others – the monumental, 14 hour long La flor (The Flower) split into 3 parts comprised of 6 episodes and 8 stories. A good way to celebrate the Argentinian cinematography is to include Latino accents in your festival look. A fine, comfortable choice for summer casual occasions is a blouse with a Spanish style neckline – low shoulder line combined with a ruffle. In the Guess shop at the Wrocław Fashion Outlet, you will find one with a typical Argentinian red rose motif. To complement the blouse you need a yellow maxi skirt with 3 ruffles (United Colors of Benetton) and classic black suede sliders (Venezia). You can get the whole outfit at the Wrocław Fashion Outlet for 334 PLN (regular price: 518 PLN).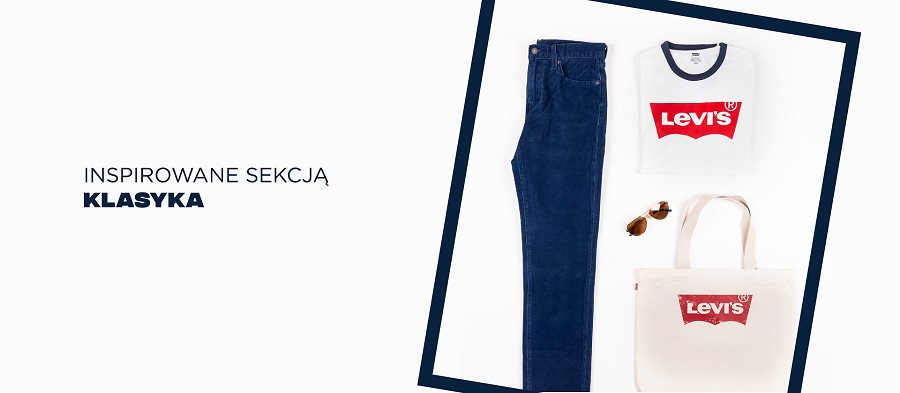 There will be plenty of 90's throwbacks in the program. These will include Mid 90's by Jonah Hill, Beats by Brendan Welsh or the classic Magnolia by Paul Thomas Anderson. It's the era of Levi's greatness – and this legendary brand is a fine pairing for these epic movies. You can punctuate a simple look of a basic t-shirt and a minimalistic, eco-friendly bag with corduroy pants that provide that extra texture variance and draw attention visually. Corduroy have remained in fashion for several seasons now – and looks great especially in intense, mysterious indigo. You can get the entire outfit in Levi's shop at the Wrocław Fashion Outlet for 340 PLN (regular price: 550 PLN). You can top the whole thing off with classic aviator glasses with corresponding dark blue temple tips from Twoje Soczewki shop.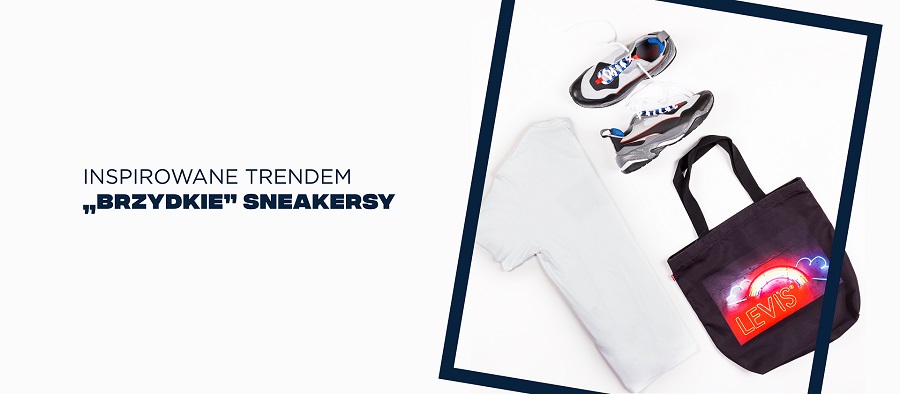 Apart from the festival themes latest fashions trends are also a great source of inspiration. Massive sneakers are still super trendy and will make you stand out from the crowd! Several brands have decided to bring back the classics in their original form. Puma has revitalized the Puma 90s Cell System series and models created in collaboration with Alexander McQueen, resulting in the Puma Thunder line of shoes in 2018. Futuristic accents fit the festival's themes of visionaries and uncompromising artists perfectly. You can get Thunder Electric boots in a brand outlet store for only 249 PLN (regular price: 579 PLN). Extravagant shoes needs a simple look – for example one focused around a basic t-shirt and a Levi's black bag.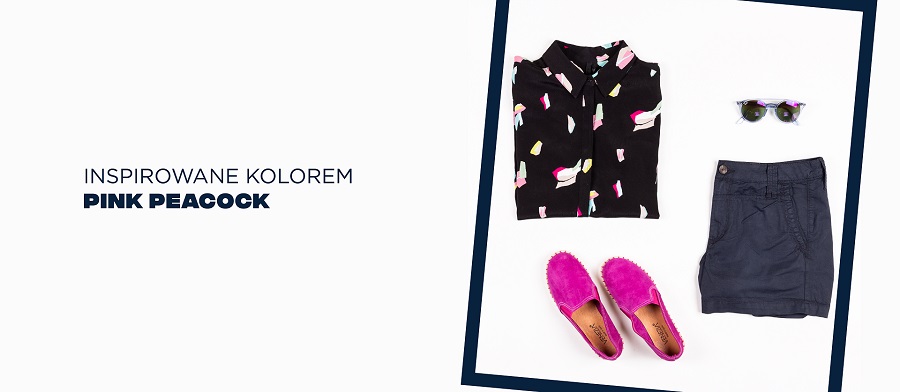 You can focus your festival outfit around the most fashionable colors of the season. One of them is a very theatrical pink called the Pink Peacock. You may use that color variant in a bold fashion by using color-blocking, or discretely smuggle it in with other pieces of the outfit. At Wrocław Fashion Outlet, you'll find it on print elements of the Pepe Jeans blouse, in Ray Ban glasses from Twoje Soczewki and on espadrilles from Venezia. Espadrilles are an extremely comfortable choice for holiday events – it's the ideal compromise between covered and uncovered feet. The soles of this light summer footwear (going back thousands of years) is made from various types of grass, for instance the water hyacinth.
Wrocław Fashion Outlet is the official sponsor of this year's 19th New Horizons International Film Festival! Follow the only fashion outlet in the region on Facebook and Instagram to learn about new surprises for cinema enthusiasts. Moreover, check out the "News and trends" section at www.wroclawfashionoutlet.com and get inspired for the summer!
Author: Marek Włoch
---